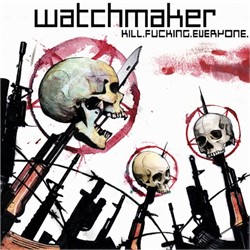 Watchmaker are very pissed off. Their music seems to be driven by the purest form of that festering, residual contempt that gradually swells within your core and makes you seethe at your worst moments. The type of thing that is defined by the sheer revulsion that preys upon your sanity when you're preyed upon by all the most terrible and unjust things the human experience can provide. Watchmaker have clearly felt all that - and probably too much to handle without venting it via some kind of outlet for it all. And so they did; they formed this band. And they released this album. Kill. Fucking. Everyone. - honest, simple, bold and dangerous. And serious too - this album is a scathing soundtrack to the moments in life where you just wish your existence could fall into nothingness - overwhelmed with rage and contempt for humanity and the Earth itself, and even one's own self.
With all that in mind, what else could they play to properly channel their hatred and fury? Scathing, vehement grindcore of course, but also with some other little twists of influence that make this album worth talking about. I've been on a real short song kick lately, and after soaking up all the madness in the release, I find it to be a very appropriate companion for my currently stressful life. The music is as vindictive as you are when you find yourself at wit's end. Each riff seems to spell out rage more passionately than the last, but Watchmaker are also clever on their instruments. Much in the way of Pig Destroyer's
Prowler in the Yard
, Watchmaker make their music refreshing through quirky dynamics. They might not offer as much variety as PD on that album, but there's something satisfying in how Watchmaker are more subtle and one-dimensional about it. Assaults of power-chords arranged in mind-bogglingly angry patterns make up scraps and fragments of riffs that assault the listener in a most unruly fashion. It's fantastic. The vocalist sounds absolutely brimming with despair and offers you no peace and no hope for a better world. Drums violently blast behind it all, notably with a completely awesome sounding snare! Some cool cymbal and tom play here and there too, though it's mostly no-frills speed with some playfulness, akin to Sandoval's performance on
World Downfall
. All the more reason to go listen, right? Yup. But you just have to hear it to understand.
It's like modern grindcore taken back a few years into the mid-90s, where the influence of old-school grind and black metal would have shed a little more influence upon things. It recalls moments of Pig Destroyer, mid era Impaled Nazarene, Assuck, and Naked Whipper, most overtly. Yet by virtue of spirit, it just doesn't really resemble anything else I've heard. Somewhere between old and modern sounding, without ever falling completely over the fence into one camp. Most of the black metal feeling arises from some of the more sombre and melodic riffs that pop up periodically in this album. They come out of nowhere, but are very skilfully placed. Songs bleed together into one huge sonic storm of rage, and it can almost be digested as one huge mass. It may not always be the most consistent listen, but there are few albums more fitting to relish during your darker hours than this one. Take this one and embrace your hate.
Buy this album on Amazon